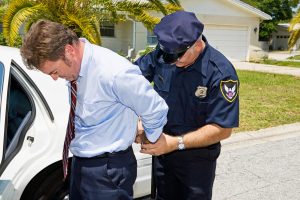 Most would agree that being arrested for a crime can be a very frightening and confusing experience. According to data from the state's Unified Crime System there were 46,365 adult driving under the influence arrests recorded last year in Pennsylvania. It is safe to believe that none of those people planned to be taken into custody.
Knowing your rights can give you some sense of comfort. Whether you are arrested for theft, traffic violations, weapons charges, drug charges, domestic violence, assault or property crimes, being taken into custody anywhere Mercer County or Bucks County is a serious situation.
Whether you are under arrest or only detained in connection with the investigation of a crime, the officer will usually inform you of the reason for your arrest or detention; however, sometimes officers do not. In addition they may not tell you that you have a right to speak to an attorney and that anything you say to the officer can and will be used against you in any future court proceedings. It is recommended that you contact a skilled and experienced Bucks County or Mercer County attorney immediately.
In certain situations, police have a right to approach and question you. When you are approached by a law enforcement officer, you should consider yourself under arrest when you are no longer free to walk away from him or her. It is not necessary that the officer tell you that you are under arrest for you to be under arrest, nor is an arrest warrant needed to arrest you.
When the police have you in custody, they often want to question you concerning your involvement in the crime that they are investigating. It is critical to remember that you do not have to answer any questions. If you choose to answer the officer's questions, you have remember that anything you tell the police officer will be put in their report and that your statement may be used against you if you are charged with the crime. Do not be afraid to tell the police that you want to speak to your attorney before answering any questions. Even if you are not guilty and want to fully cooperate so that you will be cleared of all charges, you will be better off contacting an attorney first and letting him or her do the talking for you. Having someone who knows the law can assure that you are not hurt by what could be a confusing and intimidating situation.
Trenton NJ Criminal Defense Counsel
After you tell the police that you would like to speak to your attorney, they should give you an opportunity to call your attorney. If you are not in a financial position to retain counsel on your own, you have a right to have an attorney appointed to represent you.  If this is the case you should tell the officer that you cannot afford an attorney and that you want an attorney appointed before you speak to him. However, only the Court can appoint you an attorney and courts only meet during business hours Monday through Friday.
Once you have requested an attorney the officer should not ask you any other questions, nor should you make any statements to the officer until your attorney has arrived.
Defending Clients in across Princeton and Lawrence
You have a constitutional right to represent yourself in court, although there are few circumstances where this becomes a advisable or opportunistic option. The large majority of Judges and lawyers, if accused of a crime, will even hire other lawyers to defend them. Should you decide to answers questions, whether with or without an attorney, always tell the truth. Lying can get you in more trouble. Also, do not try to bargain with the police.  If the police promise to take it easy on you if you cooperate and answer their questions remember that the police do not have the authority to make deals; only the district attorney has that authority. If you want to understand your options, insist that a district attorney be present as negotiating with anyone else will simply not be an honest negotiation. Again, your attorney should be the one to negotiate on your behalf, even with the DA, and if you are offered a deal, the deal should be submitted to you in writing.
Remember, you are entitled to your rights as designed under the US Constitution at all times. Pressure and confusion can make it difficult to explain yourself, and lack of knowledge of these rights can cause problems in your case that did not necessarily need to arise if you had waiting to review with counsel. Call your attorney before doing anything else, even before you calling a bail bondsman. An attorney can aid you in answering the officer's questions and can also help you get out of jail if necessary.
Contact the Trenton NJ Criminal Defense Lawyers At KCR For Assistance
You need good legal representation if you've been arrested for a criminal offense in New Jersey or Pennsylvania.  Your best chance of avoiding serious criminal penalties is to hire an experienced lawyer to represent you and fight your criminal charges.
The compassionate criminal defense lawyers at Kamensky Cohen & Riechelson look forward to speaking with you about your case and guiding you through this difficult process. We want to hear your story so we can understand where you're coming from and what you need us to do for you. Call us today at (609) 528-2596 in New Jersey or (215) 337-4915 in Pennsylvania or use our online contact form to schedule a consultation.