Mercer County Attorneys serving clients who have been charged with and also injured by texting while driving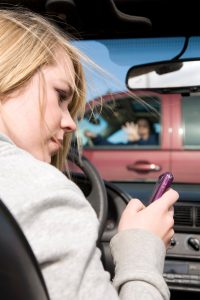 New Jersey law explicitly prohibits the use of all handheld devices, including phones, navigation devices, recording devices, and more, while driving any kind of vehicle. Considered to be "distracted driving", the laws are in place in order to protect not only the driver themselves, but other drivers and pedestrians as well.
Now, lawmakers are asking the question of whether or not the "Textalyzer" device should be used, and if so, to what extent?
Trenton Attorneys Discuss The Textalyzer
The textalyzer is a relatively new tool created for police officers. The textalyzer specifically allows officers to examine a driver's cell phone, and determine what kind, of any, activity was taking place around the time of an accident, or arrest. It is important to note that the textalyzer does not read texts, rather checks and see if calls, texts, or other apps were in use at a specific time.
Police officers are hoping to use these devices to more definitively charge and convict drivers who are using their cellphone while driving. However, many activists are strongly anti-textalyzer, claiming it is an invasion of privacy, and a violation of police officers requirement to obtain search warrants except in circumstances where it is believed evidence is being destroyed, or imminent harm to a person.
It is hard to say exactly where lawmakers will land when it comes to the legality of the textalizer in New Jersey, and many have their eyes on New York, where an investigation is currently taking place regarding the textalyzer, its potential uses, and legality, ordered by Governor Andrew Cuomo.
Distracted Driving Lawyers Princeton NJ
When it comes to New Jersey distracted driving laws, it is important to understand that cell phone use is not the only action which is prohibited while driving under the distracted driving statute. Actions such as:
eating or drinking
using any kind of handheld device (not just a cellphone)
personal grooming including hair combing or doing makeup
reading
looking at a map
adjusting the radio or other audio device
It is also important to note that if a police officer observers a driver performing any of the actions listed above, they are allowed to pull that driver over on this basis alone, as distracted driving is considered a "primary offense" in New Jersey.
Beyond traffic offense type fines and penalties associated with distracted driving arrests, distracted driving is also considered a "reckless or negligent" action, meaning if a driver causes a car accident, motorcycle accident, or truck accident while distracted, the injured party may be able to hold the distracted driver liable for their injuries through a personal injury claim.
Contact Our Mercer County Distracted Driving Arrest and Injury Attorneys
At The Law Office of Kamensky, Cohen & Riechelson, our attorneys have been helping clients with distracted driving arrests and personal injury claims resulting from a distracted driver since 1972 in towns across New Jersey and Mercer County, including Princeton, New Brunswick, Lawrence, Hamilton, and Trenton.
Our focus on criminal and personal injury law leaves our firm ideally suited to helping you with any kind of distracted driving matter, including an arrest or injuries resulting from the reckless or negligent actions of another distracted driver.
To speak with our legal team today in a free and confidential consultation regarding your distracted driving arrest, or your options for recovering financial compensation for injuries resulting from a distracted driver, please contact us online, or through our Trenton, NJ office at (609) 528-2596.