Assault and Threat Offense Charges in Jew Jersey
KCR Team of Attorneys serving in Mercer County, East Windsor, Hamilton, and Princeton among other locations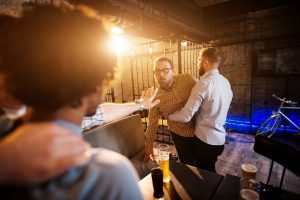 An assault charge does not mean that you are a dangerous or violent person. In fact, assault charges often stem from an argument that spiraled out of control. Unfortunately, NJ assault laws are written in such a way that just about any kind of disagreement can potentially result in your arrest. This includes domestic disputes, arguments with a neighbor, and bar fights. Sometimes, a vehicular accident can result in assault charges. Worse yet, since assault is classified as a violent crime in New Jersey, you could be facing significant penalties. If you are convicted, you may be sentenced to a lengthy term of incarceration and fined thousands of dollars. Moreover, you will be left with a violent crime conviction on your permanent record, which could cause long-term problems for you later on when you apply for jobs.
Mercer County NJ Assault and Threat Defense Attorneys
Kamensky Cohen & Riechelson is a well-respected law firm with a rich tradition in New Jersey and Pennsylvania. Our criminal defense team has more than 40 years of experience defending clients against assault charges in Mercer County, NJ, including Lawrence, Pennington, and Princeton. Additionally, our litigation team includes a New Jersey Certified Trial Attorney and a New Jersey "Super Lawyer," so we definitely know our way around a courtroom. We also understand how important it is for you to avoid a conviction for assault; that's why we will do whatever it takes to win your case. Call KCR now to discuss your assault and begin your defense.
Assault Charges in Mercer County NJ
KCR assists clients facing all kinds of assault charges in New Jersey. Some of the most frequent assault charges include:
Threat Crime Charges in Hamilton NJ
KCR also represents clients accused of threat crimes in New Jersey. The most common threat crime charges are:
Penalties for an Assault Conviction in East Windsor NJ
The penalties for an assault are determined by a number of factors, including the nature of the assault, the severity of the victim's injuries, the identity of the victim, and whether a deadly weapon was used during the assault. In fact, if you used or brandished a weapon during an attack, you could face additional weapons charges. That's why it is crucial for you to hire an experienced attorney who is prepared to challenge every aspect of the prosecution's case.
Fight Assault and Threat Charges in Princeton NJ
The skilled criminal defense attorneys at KCR are often able to get assault charges dismissed. We know how to raise affirmative defenses, such as fighting by mutual consent and self-defense. We are also able to anticipate prosecutorial tactics and contest the evidence in assault cases.
Even if the prosecution has a strong case, we may be able to get your assault charges downgraded to a lesser offense. In many cases, we've gotten assault charges downgraded to municipal ordinance violations, meaning that our clients were able to keep their permanent records clear of a criminal conviction.
Free Consultation with Trenton NJ Assault Attorneys
The criminal defense attorneys at Kamensky Cohen & Riechelson are prepared to help you beat your assault charges. If you have been accused of an assault crime in New Jersey or Pennsylvania, call us today at 609.528.2596 to discuss your case. You can also email us to schedule a free consultation at our offices in Trenton NJ or Bensalem PA.