False Imprisonment Charges and Penalties Princeton, NJ
Criminal Attorneys with offices in Pennington and Trenton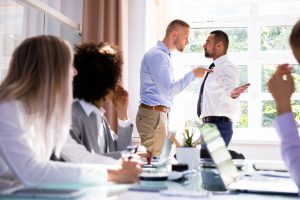 Although false imprisonment is a lesser offense of kidnapping and criminal restraint, it still constitutes a very serious assault offense. Anyone can be charged with false imprisonment in New Jersey. This charge is often filed in situations that started out harmless. For example, you might have lost your temper during an argument and caused the other person to wait until you were finished before they could leave. Even verbal threats can result in charges of false imprisonment. All that is required for this offense is that the other person believed they were not free to leave.
Kamensky Cohen & Riechelson is a law firm that serves clients in New Jersey and Pennsylvania. Our criminal defense attorneys have more than 40 years of experience defending clients against charges of false imprisonment in Hamilton, Trenton, and everywhere else in Mercer County. We understand that your freedom could be at stake in these cases; that's why we will do whatever it takes to secure a win for you in the courtroom and keep you out of jail. Call KCR now to speak with a member of our litigation team and start your defense to these very serious charges.
False Imprisonment Charges in Mercer County NJ: N.J.S.A. 2C:13-3
False imprisonment charges in New Jersey are addressed by N.J.S.A. 2C:13-3. An individual is guilty of false imprisonment when they knowingly and unlawfully restrain another person so as to interfere substantially with that person's liberty.
One of the elements of a false imprisonment offense is knowledge. This means the prosecution must show that the defendant acted knowingly throughout the course of restraining the victim. In other words, it might be possible to get a false imprisonment charge downgraded or dismissed if the defendant did not understand the effects of their actions or did not realize that the other person felt unfree to leave.
Penalties for False Imprisonment in New Jersey
False imprisonment is classified as a disorderly persons offense. This means that anyone who is convicted of false imprisonment in New Jersey may be sentenced to up to 6 months in the local county jail and fined as much as $1,000. Additionally, if the offender used a motor vehicle at any point during the commission of the offense, they may face an additional penalty: suspension of their driver's license for up to 2 years.
Moreover, when the false imprisonment occurs during a domestic violence incident, it is not uncommon for the charge to be accompanied by a restraining order.
If the restraint gets out of hand or turns violent, the offender may face elevated charges of criminal restraint or kidnapping. This matters because both of these crimes are classified as felony-level offenses; anyone charged with criminal restraint or kidnapping will have to appear in the county superior court and will be subject to significant penalties that include state prison time.
Defenses to a False Imprisonment Charge in Trenton NJ
It is an affirmative defense to a charge of false imprisonment that the person being restrained was under the age of 18 and the defendant was a relative or legal guardian of the child. In order to sustain this defense, the defendant must also prove that their sole purpose in restraining the child was to assume control of them.
The intent of the offender also matters a great deal in false imprisonment cases. As a result, it might be possible for an attorney to get the charges downgraded or dismissed if the defendant was acting under a good faith belief that they had a duty to restrain the victim. For example, if the victim posed a threat to themselves, the defendant might have felt as though they had no choice but to physically restrain them.
Additionally, during sentencing, the court may consider the type of restraint that was used and the length of time that the restraint was employed. If the victim was never put in any danger and the restraint was used for just a short period of time, it might be possible for the defendant to avoid jail time.
Contact a Hightstown NJ False Imprisonment Lawyer
Kamensky Cohen & Riechelson will fight your false imprisonment charges and do what is necessary to preserve your freedom. Call us now 609.528.2596 to discuss your case, or fill out the online contact form to schedule a free consultation at our Pennington or Trenton offices.