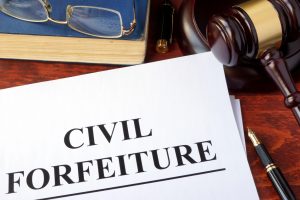 Municipalities that are strapped for cash have turned to some fairly creative methods of generating revenue. One method is police and prosecutors seizing and forfeiting cars, boats, money, computers, guns and even homes that were "used in, or facilitated a charged criminal activity". Although many cases involve significant crimes and the forfeitures are justified, far too often persons charged with fairly low-level drug sales or purchases are routinely having their cars and homes seized. These fines and forfeitures are often used to supplement local and state budgets, including those of the very agencies that seized and forfeited the property. They also have produced complications in the area of criminal defense as those charged with crimes must not only defend their freedom but also their property.
Being indicted on any criminal offense is a serious situation. The legal system can be very intimidating and the potential for loss of freedom, finances and property is enough to cause anyone worry. However, even if you have been charged with a crime our Constitution grants us all the right to be free of excessive fines and protects our property from unfair and unwarranted government seizures. The law firm of Kamensky, Cohen & Riechelson has more than four decades of experience defending clients who are facing criminal charges and civil forfeiture across New Jersey and Mercer County areas. Our attorneys will help you through the often complicated legal process with the goal of defending your freedom, your property and your finances.
Contact us online or call us at (215) 337-4915 today for a free and confidential consultation with a member of our experienced and skilled legal team.
Problems With Mercer County Civil Asset Forfeiture
The problem is that many Civil Asset Forfeitures may be extremely excessive when compared to the criminal activity charged in addition to exceeding the financial penalties that the law dictates for a particular offense. In a current case before the U.S. Supreme Court , Timbs v. Indiana, the defendant pled to one count of dealing. He was sentenced to a year of home detention, five years of probation, and $1,200 in fines and court costs which is normal for this type of case. However, in a separate civil forfeiture proceeding, the State sought to forfeit his expensive Land Rover asserting that it was used in the commission of the crime. The value of the car was well over $42,000. The trial and appellate courts held that the forfeiture was excessive, disproportionate to even the maximum fine of $10,000 under the drug statute. The Indiana Supreme Court, however, reversed and allowed the forfeiture. The U.S. Supreme Court must now decide whether the excessive fines clause in the Bill of Rights applies to the states.
Civil Asset Forfeiture Expanding Across New Jersey
Every day across New Jersey and elsewhere, local and state law enforcement seize cars, homes and other property they allege were used in or facilitated criminal activity – whether that consists of relatively minor drug sales, transportation of stolen property or other crimes involving the "use" of the car. Even if the person charged is admitted into a pretrial diversion program or receive probation and a minor fine, the government may still proceed to forfeit their property civilly or as part of the criminal sentence. That forfeiture is often grossly disproportionate to the underlying criminal charges.
The ACLU in New Jersey compiled data, from January through May 2016, and found that police departments in New Jersey seized $5.5 million in cash over that time period, along with 234 cars as well as several homes.
Contact our Experienced Mercer County Civil Asset Forfeiture Attorneys Today
The criminal defense attorneys of Kamensky, Cohen & Riechelson have extensive experience defending clients from unfair, unwarranted and excessive civil asset forfeitures in Mercer County including Trenton, Lawrence, Princeton, and Pennington NJ. Our firm believes in aggressively defending our clients freedom, rights and property. You can rely on the experience we have cultivated since opening our doors in 1972.
For a free and confidential consultation regarding your case, please contact us online or through our Trenton offices by dialing (215) 337-4915 today.