Brass Knuckles and Other Illegal Weapons Charges in NJ and PA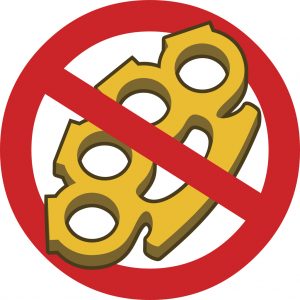 Citizens often have many questions surrounding the possesion of weapons. Lack of knowledge of the law is often claimed in criminal defense cases where people are charged with possession of a weapon for an unlawful purpose or unlawful possession of a weapon. Knowledge of which weapons can be legally owned in New Jersey can help to prevent the forfeiture of weapons such as brass knuckles and others that you are not legally allowed to possess.
Kamensky Cohen & Riechelson is a legal team that has been representing clients in New Jersey and Pennsylvania since 1972. Our skilled attorneys have supported a myriad of clients charged with unlawful possession of a weapon in Mercer County, NJ, including Trenton, Hightstown, and Ewing. We understand how seriously NJ prosecutors take weapons offense cases, which is why we will do everything viable to contest your charges and keep you out of custody. Contact us online or call KCR today anytime at (215) 337-4915.
Trenton Possession of Brass Knuckles Attorneys
In New Jersey, it is illegal to carry weapons around with you. However, some weapons are permitted for self-defense, and though it is difficult, you may be able to get a gun permit. Under N.J.S.A. § 2C:39-3, it is illegal to possess certain kinds of arms, which includes weapons like brass knuckles, knuckle dusters, a cestus, or reinforced gloves.
The New Jersey administrative code for firearms and weapons lists specific weapons that you cannot own. To do so will result in facing gun possession charges for not having a permit or license, but you can also fall subject to criminal penalties for possession of some weapons or weapon components, such as:
"Destructive devices"
Sawed-off shotguns
Silencers
Altered firearms
Armor piercing ammunition
Handcuffs
Stun guns/Tasers
Bump stocks and trigger cranks
In addition, it is illegal to have possession of other specific conventional weapons. These weapons are illegal because they are typically carried to harm or maim others and not for self-defense. Moreover, the possession of such weapons for unlawful purposes or in the commission of a crime poses additional repercussions. Whatever the reason for having one of these weapons on your person, it is illegal to own certain weapons, including the following:
Switchblades
Daggers
Billy clubs
Blackjacks
Brass knuckles (called "metal knuckles" in the statute)
Slingshots
Ballistic knives
Charges for the Possession of Brass Knuckles Mercer County NJ
The possession of an illegal weapon in New Jersey is a fourth-degree crime. Crimes are divided into "disorderly persons offenses" and "indictable crimes" (often just called "crimes"), which roughly equate to "misdemeanors" and "felonies" in other states. Crimes of the fourth degree are the lowest level of crime in New Jersey, but they can still carry considerable penalties.
Fourth-degree crimes are punished by up to 18 months in jail and fines up to $10,000. These penalties are merely the maximum, and judges do not usually order the full penalties unless your crime was particularly dangerous or heinous. For a first-time offender or someone with a clean criminal record, judges may order reduced penalties.
This crime has no mandatory sentence. Meaning a judge may issue you a fine only or may include a period of probation as part of your final judgment. This may allow you to circumvent jail time, but it is still a harsh punishment that could include paying penalty charges, checking in with a probation officer, attending crime deterrence courses, performing community service, and remaining free from further crime. It is, therefore, crucial to talk to an attorney about the potential penalties for your weapons charges.
Carrying brass knuckles for an unlawful purpose, such as the commission of a crime, is elevated to a third-degree crime. This is punished by 2-5 years in prison and fines up to $15,000.
Contact our Trenton NJ Weapon Charges Attorneys
The criminal defense attorneys Kamensky, Cohen, & Riechelson, will do everything in their power to help you eradicate your weapons possession charges and avoid New Jersey's strict penalties. Let us handle your case as we have been doing for over four decades in New Jersey and local Pennsylvania towns like Northeast Philadelphia, Bensalem, Levittown, Penndel, Millbrook, Feasterville, and all of Bucks County. Contact us online or at our Trenton or Bensalem offices by calling (215) 337-4915 today to speak with a member of our legal team in a free and personal consultation regarding your claim.