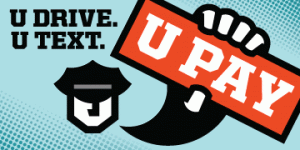 There is a new, nationwide campaign during the month of April to raise awareness of drivers to the dangers, and penalties, of distracted driving. This effort is known as "U Text, U Drive, U Pay", and police departments across New Jersey have received increased funding this month to pay for more officer patrols, patrols which will be specifically targeting drivers who are using their cellphone or other electronic device while they are driving.
From 2010 to 2014, distracted driving has been cited as the cause of over 817,000 car accidents in New Jersey, while nationwide 3,179 people were killed in incidents of distracted driving in 2014 alone.
If you have been charged with distracted driving in Mercer County, it may be prudent to retain the counsel of an experienced Mercer County municipal court attorney to defend your rights during your mandatory municipal court appearance. Read below for a more comprehensive overview of potential fines and penalties for a New Jersey distracted driving charge.
Injuries Caused by Distracted Drivers Attorneys Trenton, NJ
Distracted driving is a reckless and negligent action. If you have been injured by a distracted driver, you most likely have a personal injury case, and can pursue monetary compensation from the driver's insurance provider for medical expenses incurred as a result of your accident, lost wages if you were subsequently unable to work, and your physical and emotional pain and suffering.
If you have been injured by a distracted driver, and would like to discuss your options with an experienced Trenton personal injury lawyer, the Mercer County law firm of Cohen & Riechelson is ready to begin protecting your physical and financial future today. Contact us for a free and confidential consultation regarding your potential personal injury case against a distracted driver.
What does "U Drive, U Text, U Pay" Mean for Mercer County Drivers?
"U Drive, U Text, U Pay" is a nationwide campaign to raise driver awareness to the dangers and consequences of distracted driving. Beginning April 1st, and lasting until April 21st, New Jersey state police and municipal police in towns such as Trenton, Princeton, and Hamilton have received additional funding to increase patrols specifically targeting distracted drivers.
Distracted driving is considered to be performing any activity which could divert your attention away from the primary task of driving. These distractions endanger the driver, their passengers, and other drivers and pedestrians. Actions considered to be "distracted driving" include:
Texting
Using a cellphone or smartphone for any action
Eating or drinking
Talking to passengers
Grooming such as combing hair or applying makeup
Reading, including maps
Using a navigation device
Watching a video
Adjusting the radio, CD player, or other audio device
While text messaging is by far the most dangerous, and thus the most penalized, action considered distracted driving, many of these other actions you might not have known qualify as distracted driving. It is important that you are always focused on the road when you drive, but during the month of April you may want to think twice before checking your hair in the mirror.
Penalties for Distracted Driving Mercer County Lawyers
Similar to speeding, reckless driving, and DUI charges, distracted driving is considered to be a traffic offense, and as such is heard in municipal court. While traffic offenses are not a part of your permanent criminal record, they nevertheless can severely impact your life. Any distracted driving charge requires a mandatory municipal court appearance, and additional penalties are as follows:
First Offense: $200-$400
Second Offense: $400-$600
Third Offense: A fine of up to $800, and a possible 90-day license suspension
If you are facing any traffic offense charges including speeding, reckless driving, or a DUI in towns such as Hamilton, Trenton, Ewing, Lawrence, Princeton, or the surrounding Mercer County area, it is important that you retain experienced municipal court representation to help you reduce penalties, protect your driving privileges, and in some cases avoid potential jail time.
Contact a Hamilton Distracted Driving Lawyer Today
Whether you are considering a personal injury case against a distracted or drunk driver, or are seeking to protect your rights and future against any traffic offense charge in municipal court, the experienced attorneys at the Trenton law firm of Cohen & Riechelson can help.
Our law firm has built a reputation of being tough and effective litigators. Whether we are negotiating with an insurance company or the local prosecutor, our client-centric approach allows us to identify the issues most important to you, and fight for your interests both in and out of the courtroom.
Featuring a law team which includes a New Jersey Supreme Court Certified Civil Trial Attorney, we can provide you with effective, knowledgeable, and compassionate legal representation in both municipal court summons such as distracted driving or DUI charges, as well as any personal injury matter.
To speak with our law team today in a free and confidential consultation regarding your unique situation, please contact us online or through our Hamilton office at 609.528.2596.