Advising clients facing slip and fall-related injuries across New Jersey in Hamilton Township, Trenton, Ewing and across Mercer and Middlesex County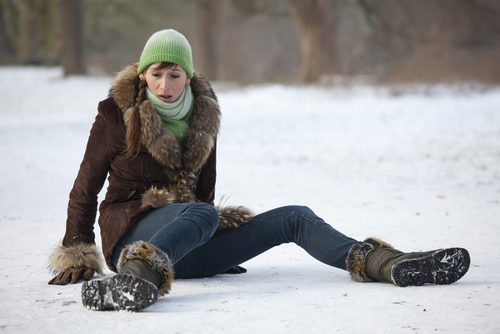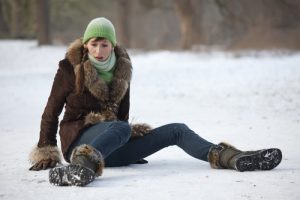 New Jersey winters are a cold, wet, wild ride. During winter, you must be especially careful when walking so as not to slip and injure yourself, but such falls can happen at any time and in any place. Dangerous conditions are not limited to the icy outdoor conditions New Jersey is subject to during winter, such as on sidewalks and in car parks; in fact, snow, ice, and rain can make their way indoors and turn any surface into a danger zone. Downpours at all times of the year seep underneath the doors of many businesses, turning their front lobbies into a puddle spelling disaster.
Falls are responsible for more than eight million hospital visits to the emergency room, which accounts for more than one of every five visits, according to the National Floor Safety Institute.
New Jersey law holds that business owners are responsible for maintaining the grounds of their property, internally and externally. This includes ensuring that slippery conditions do not exist, no matter the weather outside. If someone slips and falls on a business's property, it is likely that the victim may have rights to personal injury compensation or other damages. This type of 'slip and fall claim' requires the expertise of a personal injury lawyer. Representation by a personal injury law firm ensures that the victim will receive the full and rightful compensation for injuries sustained as a result of the negligence or dangerous conditions of the business's grounds, and of its management.
What is a slip and fall claim?
A slip and fall claim is filed to seek recovery for injury or damages occurring due to unsafe conditions on a business's property. Many slips, trips, and falls that happen on business property are due to fraying carpet and slippery linoleum flooring. Injuries occurring as a result of a slip and fall can be serious, including injury to the head, neck, back, spinal cord, and hips, and traumas or fractures of many kinds. Such a fall could even cause trauma to the brain. The Bureau of Labor Statistics reported that in New Jersey in 2016, falls, slips or trips resulted in the deaths of 26 people.
Most Common Injuries Associated With Slip and Falls
Of slips and falls, the National Floor Safety Institute reports that fractures are the most prevalent serious result of slips and falls that occur in one's workplace, injuring 5 percent of those injured in a fall. And among people over the age of 65, 87 percent of all fractures happen as a result of falls, which are also the second leading cause of spinal cord and brain injuries among the elderly.
Delayed Symptoms and the Importance to File a Claim After a Trip and Fall Accident
Even if at first appearing mild, these types of injuries can keep someone from being able to work for extended periods of time as symptoms begin to show themselves after the initial stress functioning has subsided. As such, it is important to file a slip and fall personal injury claim if you feel you may have been injured due to slippery conditions. A victim is responsible for filing a claim within two years of the accident to be able to seek damages. In the meantime, it is important to keep documented reports and receipts of medical expenses incurred as a result of the injury, as well as a detailed case file.
When will a property owner be held legally responsible for the accident?
A property owner will be held legally responsible if any of the following conditions are present when an accident occurs:
it can be proven that the property owner knew about the dangerous condition and did not remedy the situation;
the property owner or an employee personally caused the danger; or
the property owner and employees did not notice the dangerous condition, though it was an obvious and apparent danger.
If the property owner is found to meet any of the above conditions, they will be legally responsible for covering all injuries and damages claimed as a result of an accident on their property.
Contact Our Mercer County Slip and Fall Lawyers Today
At The Law Office of Cohen & Riechelson, our experienced attorneys are well poised to help victims of slips and falls across Hamilton Township, Trenton, Ewing and across Mercer County, and ensure that you recover your fair share of damages for any injuries sustained in the accident.
We pride ourselves on our integrated approach to protecting the legal rights of victims no matter the extent of their injury. To contact a member of our highly skilled personal injury law team and schedule a personal consultation, please call (609) 528-2596 or fill out our online contact form.