Even a Minor Accident, Such as a Fender Bender, Can Result in Injuries that Mean You're Entitled to Compensation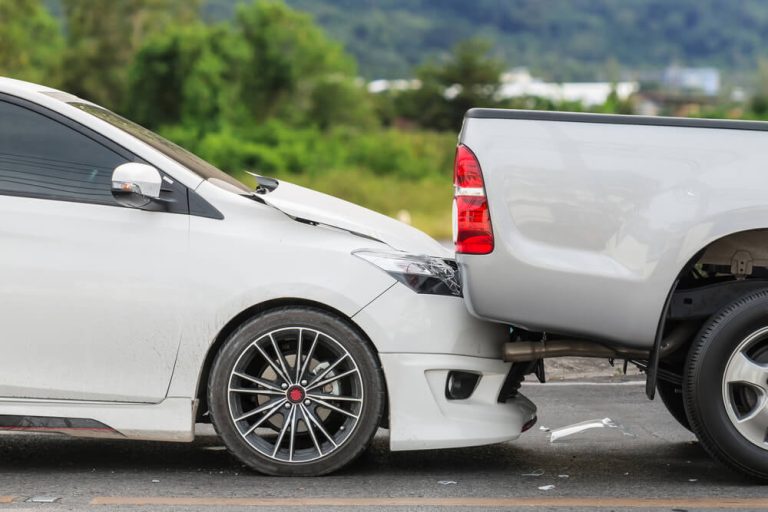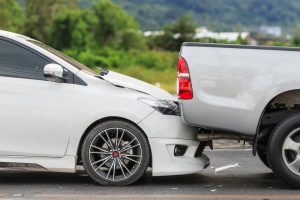 Most people have experienced minor car accidents like fender benders throughout their lifetime. Accidents where the collision is minimal and occurs at a low speed, leaving very little damage to either vehicle, but don't be fooled. Even a minor accident can cause serious injuries, especially to your head, neck, and back. If you have been injured in a fender bender in NJ, seek medical help immediately and contact a personal injury attorney at Cohen & Riechelson to discuss your case and whether you may be entitled to compensation.
Fender Bender Accidents on NJ Streets and Roadways
A fender bender is an accident where one driver lightly hits the other causing minimal damage (usually to the fender and the bumper). However, a fender bender may involve parts of the car other than the fender itself. The impact is almost always made when the front of one car hits the back of another. People tend to disregard getting help or calling their insurance company because deductibles can be high. Still, an insurance claim is usually submitted if the damage is significant and requires major repairs.
Typical Actions That Cause Fender Bender Accidents
In nearly every case, fender benders are caused when the driver behind the vehicle that is hit is not paying attention. There are many distractions, such as fatigue, watching videos, texting, putting on make-up, having lunch, taking selfies, or recording a quick clip to post online. These distractions take our attention away for mere seconds, but that is just enough time to cause a fender bender. Sometimes, the driver in front has to brake very quickly, and there isn't time to stop, which is why keeping your eyes on the road is more important than ever.
Some examples of these kinds of accidents are when there is stop-and-go traffic. A fender bender can occur if a vehicle in a parking lot backs into a parked car or two vehicles back into each other. Sometimes when you are merging, and the driver behind you doesn't see that you have stopped or slowed down, there can be an accident. At stop signs or traffic lights, vehicles arriving at the intersection may not see the cars stopped before them.
Common Injuries Suffered in a Fender Bender Incident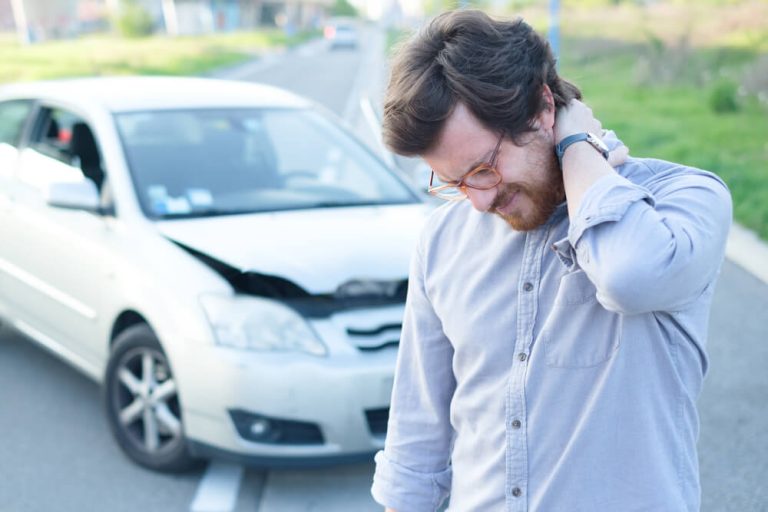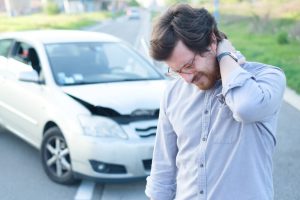 The most common injury is whiplash. Whiplash is caused when your head is moved suddenly forward, placing your chin to your chest, and backward, placing the back of your head onto the bottom of your neck. This jerking motion can cause damage to the soft tissue between your cervical vertebrae resulting in injuries to the ligaments, tendons, and muscles in your neck. This can irritate or damage the soft discs in your neck and cause pain in the neck, back, or shoulders. You may experience muscle spasms, headaches, difficulty with neck mobility, and numbness in your extremities.
According to orthopedic neck and back specialists, severe cases of whiplash have been seen in any injury where the vehicles are moving at seven mph. Most fender benders happen at faster speeds than that, resulting in the neck and head moving so rapidly that the ligaments in the neck can be stretched or torn.
Back injuries are also common, especially for the elderly or those with previous back injuries. Herniated discs, malalignment of the spine, or compression fractures can lead to grave back problems that could affect you for several months to years. Another back complication is inflamed sciatica, a nerve that runs from your hip to your foot. If irritated, it can cause debilitating pain and require physical therapy several times a month.
Soft tissue injuries are frequently experienced after a fender bender. Joint injuries such as sprains, ligament and tendon strains, or ruptures can be excruciating. Contusions or bruises should be observed carefully as well.
Determining Responsibility for a Fender Bender Accident
The liability for a fender bender most frequently lies with the vehicle that hits the other driver from behind. A car in motion that collides with one that is at a standstill or close to it is at fault. Often these accidents happen when the driver responsible for the collision is distracted, perhaps answering a text, looking at the GPS, or jamming to their favorite song.
Although the damage to either vehicle is minimal, you should get a police report. In the State of New Jersey, any damage that appears to be less than $500 does not require that the police be called; however, it is better to have them make a report then and there. Be sure to explain your side slowly and calmly so they accurately note the accident's details. Also, encourage any witnesses to give their statements as well. Take down the names and contact information of the witnesses in case you need to contact them later. If you are not injured, take photographs of the damage and where the accident occurred.
Sometimes, both drivers are at fault. For example, if Georgette slams on her brakes to harass Lloyd driving behind her, that bit of road rage could cause a fender bender. Had the driver of Lloyd maintained his distance and kept his attention on the road, he may have been able to avoid an accident, but if Georgette had stopped quickly with only inches between the cars, the fault could be entirely hers.
For argument's sake, let's suppose the insurance company found Georgette 80% at fault; under New Jersey's Comparative Negligence Law, to collect damages, the driver cannot be more at fault than the other person in the accident. This means if each car's damage was valued at $12,000, Lloyd is entitled to damages in the amount of $9,600. At the same time, Georgette will have to pay her insurance premium and hope she has enough coverage by her insurance company to get her car fixed.
Victims' Rights After a Fender-Bender
If you are a victim injured in a fender bender, you have the right to prompt medical care, diagnosis, prognosis, medications, therapies, and, if needed, surgical intervention. Injuries do not always present symptoms until days after your accident, so you may need to seek medical help after your initial visit. Only a doctor can tell you about the injuries you have sustained.
You have the right to exact damages for lost wages, damage to your vehicle, emotional distress, and bodily injury. Likewise, you have the right to consult an attorney and file a personal injury lawsuit if the insurance company's settlement is unfair. You needn't give a formal statement to the insurance company without consulting with your attorney.
Filing a Lawsuit Against The Person Responsible For a Fender Bender
New Jersey is a no-fault car insurance state which means that the driver's insurance pays for damages for the other driver (if they weren't at fault) and medical treatment for you and your passengers up to a certain amount of coverage.
If your injuries, medical treatments, therapies, mental anguish, and lost wages require more than what the no-fault insurance has paid you, you can file a lawsuit against the at-fault driver. It is important to hire a personal injury lawyer as soon as possible to help you to prepare your case. You only have two years from the date of your injury to file.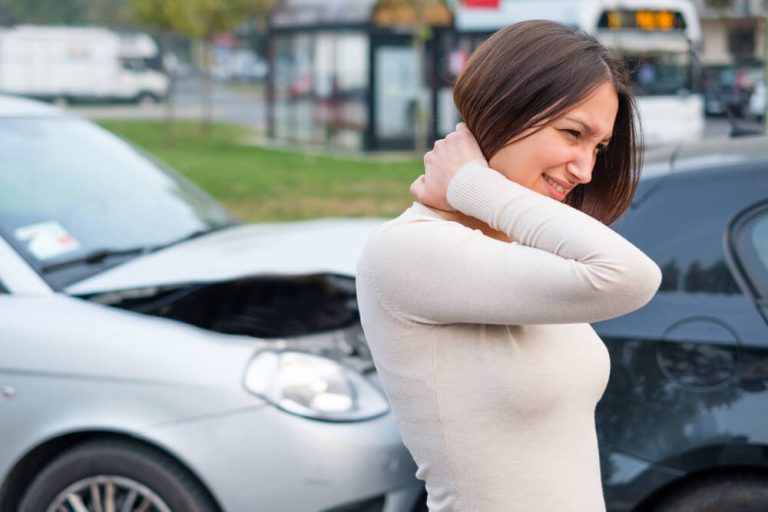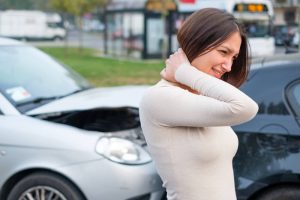 Get all the documents related to the accident, including witness statements and their personal information, police reports, photographs, medical records, and personal financial information. Your lawyer will begin to investigate more thoroughly to create arguments for your dispute.
Your lawyer will file a legal complaint with the court naming the other person as the defendant in the suit. Once the defendant has been served, they are given time to respond to the complaint, and a hearing date will be set.
Contact Us if You Have Been Injured in a New Jersey Fender Bender Accident
Whether you are a victim of a fender bender or someone you love has suffered injuries in this type of crash, you need an aggressive, strategic attorney to protect your rights. Dealing with insurance companies and personal injury suits as the plaintifF can be complicated, and you should have someone looking out for you. You need someone who is a straight shooter, with extensive experience, who will explain all of your options to you and fight for your cause.
The fender bender attorneys of Cohen & Riechelson are familiar with the tricks and arguments put forth by automobile insurers in Mercer County, Hamilton, Pennington, Ewing, Princeton, Lawrence Township, South Brunswick, and across New Jersey. Our experience and dedication are what make us leaders in our field. We will choose the best course of action for your unique case while listening to your needs and concerns and working diligently to obtain full compensation.
Call our Hamilton office today to find out more regarding your fender bender accident at (609) 528-2596. You can also contact us by filling out the online contact form to schedule an initial consultation with a member of our team. The consultation is always provided at no cost, with no obligation.